Cannes Lions | Suur ülevaade: maailma parimad reklaamfilmid
Heidame pilgu peale maailma kõige säravamatele reklaamfilmidele. Järgnevad kaks tööd, mis võitsid loovfestivalil Cannes Lions 2022 filmi kategoorias peaauhinna ehk Grand Prix'. Lisaks toome välja ka kaheksa kulla võitnud tööd. Head nautimist!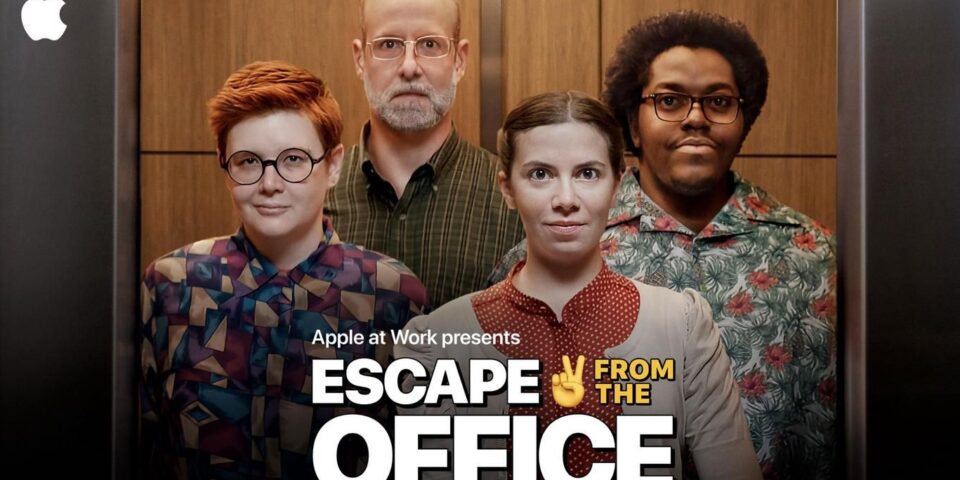 Filmide lühitutvustused on inglise keeles, just sel kujul, nagu need konkursile Cannes Lions esitati. 
SUPER. HUMAN.
Category: Media/Entertainment
Section: TV/Cinema Film
Award: Grand Prix
Brand: Channel 4
Entrant: 4Creative London
Channel 4's 'Superhumans' campaign was hugely influential, but a decade on, some disabled people pointed out we had inadvertently created a new disability stereotype: sports superhero. So the most powerful thing we could do was rip our most iconic campaign in two. This year, instead of just presenting the athletes as 'super', we wanted to show their human side: Super. Human. Because what sets these athletes apart is not their disability, but the human qualities of obsession, competition and sacrifice that they take to the next level: To Be A Paralympian There's Got To Be Something Wrong With You.
ESCAPE FROM THE OFFICE
Category: Consumer Services/Business to Business
Section: Online Film
Award: Grand Prix
Brand: Apple
Entrant: Apple Sunnyvale
"Escape from the Office" follows an unlikely gang of underdogs as they skip out on their evil boss, come up with a product, and grow it into a booming small business.
It's a journey fraught with email and conference calls and birthday cakes and ballet recitals. Hires from halfway around the world, and a 14-year-old that just might take over the world. And a garage with an odor that — well, you get the picture.
Thanks to Mac, iPhone, iPad, Apple Watch, Apple Business Essentials, and a suite of business apps, the team manages to find its footing. Because when you stick together — and your devices work together — you'll always find a way, in the office or not.
THE SPIDER AND THE WINDOW
Category: Consumer Goods
Section: TV/Cinema Film
Award: Gold Lion
Brand: Samsung Electronics GMBH
Entrant: Leo Burnett Frankfurt
The life of a small terrarium spider changes abruptly when she sees an advertising motif for the new Samsung Galaxy S22 Ultra smartphone on the opposite house wall and falls madly in love with the design of its camera lenses. Accompanied by Nazareth's power ballad classic Love Hurts", the spider experiences an emotional roller coaster as her unlikely love is put to the test when the poster is suddenly exchanged.
In the end, however, we witness an emotional happy ending for Spider and Phone. The unusual love story shows the fascination for the impressive camera of the Galaxy S22 Ultra in an unseen way and can also be understood as a statement of optimism, encouragement and openness.
"DETECTIVES"
Category: Consumer Goods
Section: TV/Cinema Film
Award: Gold Lion
Brand: Apple
Entrant: O Positive LLC Santa Monica
Shot entirely on iPhone 13 Pro, 'Detectives' uses a relatable movie scenario to demonstrate the camera's Cinematic mode feature and unpack it with self-referential dialogue. In an archetypal scene from a detective thriller, we find two cops on a stakeout. The background cop is having an existential crisis about being blurry. The foreground cop explains that the camera is just focusing on the scene's "most important character." As the dialogue eventually shifts the narrative in favor of the blurry cop, the camera pulls him into focus. But it turns out to be a plot red herring, and the focus ultimately shifts back to the foreground hero.
THE NIGHT IS YOUNG
Category: Food & Drink
Section: Online Film
Award: Gold Lion
Brand: Heineken
Entrant: Publics Italy Milan
The film 'The Night Is Young' portrays people going out to clubs, before revealing that they are actually seniors, the vaccinated ones that can actually travel around and party again. The seniors are living their best night dancing, flirting, drinking Heinekens and partying until sunrise. Celebrating the old and carefree, the film encourages Millennials and Gen Z to get vaccinated too, and not miss out on the summer fun with the tagline "The night belongs to the vaccinated"
CONVERGENCE STATION
Category: Travel/Leisure
Section: Online Film
Award: Gold Lion
Brand: Meow Wolf
Entrant: Wieden+Kennedy Portland
We're on a moving train. A distressed traveler weeps as he realizes he's never been outside of boring old earth. A song starts and we learn that maybe there's a better way. The train travels through other intergalactic times and dimensions. The song tells us to "Get out and see the worlds." The train and song are interrupted by a professor speaking Japanese. He explains the dangers of interdimensional travel and worm holes. Oh no, he accidentally opens a worm hole himself when he attempts to explain his thoughts with a pencil and a map! Time bends as everything is sucked into the multiverse. We end on the train flying through space. Cut to an end card about buying tickets and visiting Convergence Station. The end.
THE LOST CLASS
Catogory: Not-for-profit/Charity/Government
Section: Online Film
Award: Gold Lion
Brand: Change The Ref Inc.
Entrant: Leo Burnett Chicago
In this film, former National Rifle Association (NRA) president, David Keene, gives a graduation speech to 3,044 empty chairs. Although he thinks he's giving a speech to a real class, he's actually speaking in front of The Lost Class – the 3,044 high school students who would have graduated this year if they weren't killed by a gun. As he speaks, he offers advice on these students' futures while real 911 calls from school shootings play. Once he finishes his speech, he's only left with silence.
SAVE RALPH
Catogory: Not-for-profit/Charity/Government
Section: Online Film
Award: Gold Lion
Brand: Humane Society International
Entrant: Humane Society International Washington
Save Ralph is a stop-motion animated documentary-style short film. The film features HSI's campaign spokesbunny Ralph as he goes through his daily routine as a "tester" in a lab. #SaveRalph campaign tackles the disturbing issue of animal testing in an originally unexpected way—using the story of one bunny to shine a light on the plight of countless rabbits and other animals suffering in laboratories around the world, engaging viewers to help ban cosmetic animal testing. The film stars Taika Waititi as Ralph, with Ricky Gervais, Zac Efron, Olivia Munn, Pom Klementieff and Tricia Helfer, and additional versions produced in Spanish, French, Portuguese and Vietnamese with George Lopez, WIlmer Valderrama, Rosario Dawson, Rodrigo Santoro and others voicing characters in those languages.
WHEN HARRY MET SANTA
Category: Viral Film
Section: Viral Film
Award: Gold Lion
Brand: Posten – The Norwegian Postal Service
Entrant: Pol Oslo
The ad starts out showing Harry accidentally seeing Santa leave a present in his home before escaping via the chimney. As the years pass, their longing for each other grows, and they wait for that one moment every year where they can meet each other on Christmas.
Harry is miserable for the rest of the year and spends his time waiting for Christmas to have a glimpse of Santa. He finally sends a letter saying: "Dear Santa, All I want for Christmas is you". When the bell rings on Christmas, Harry eagerly heads to the door but realizes it's a postwoman delivering his gift. He's confused but when he heads back into his living room, he sees his real gift waiting for him – Santa Claus.
Harry puts away the presents he's holding and walks over to him. They look tenderly into each others' eyes and kiss.
SHOT ON IPHONE 13 PRO – THE COMEBACK
Category: Cultural Insight
Section: Culture & Context
Award: Gold Lion
Brand: Apple
Entrant: TBWA\Media Arts Lab Shanghai
To illustrate iPhone's superiority as a movie-grade camera that allows everyone to pursue their filmmaking dreams, we made a movie about misfits making a movie, shot entirely on iPhone.
The story follows a disheartened young wannabe director, his father, and a rag-tag crew of villagers on their mission to shoot an out-of-this-world movie in hopes of reviving their village by making it "internet famous". This team of unsuspecting underdogs embark on an adventure of ups and downs in this multi-genre film—part Hollywood sci-fi, part traditional Kung Fu action, part nostalgic comedy. Through this journey filled with passionate disagreements, endearing setbacks and accidental success, they rediscover special bonds that are never meant to be broken and find new hope beyond failures. The film encourages everyone to never stop believing in their dreams—even if that dream is as far away as Mars.